Dashboard
On the
Dashboard
tab, you can add widgets with statistics based on Adfox reports. You can use widgets to display data from
pre-set (available)
or
custom (saved)
reports.
Unlike reports, widgets contain statistics for a short period of time, such as a day, the last three days, or a week. You can manage data the way you need, such as change views or change the set of indicators to be shown on the chart without refreshing the page.
How to add a widget
To add a widget:
In the Adfox interface, go to the

Dashboard

tab and click

Add widget

.

In the window that opens, select a group of reports:

Adfox predefined report

or

Adfox saved report

.

Find the desired report in the list and select the format for data representation: a graph 

, histogram 

, pie chart 

, or table 

. You can change the view after adding the widget.
Actions with widgets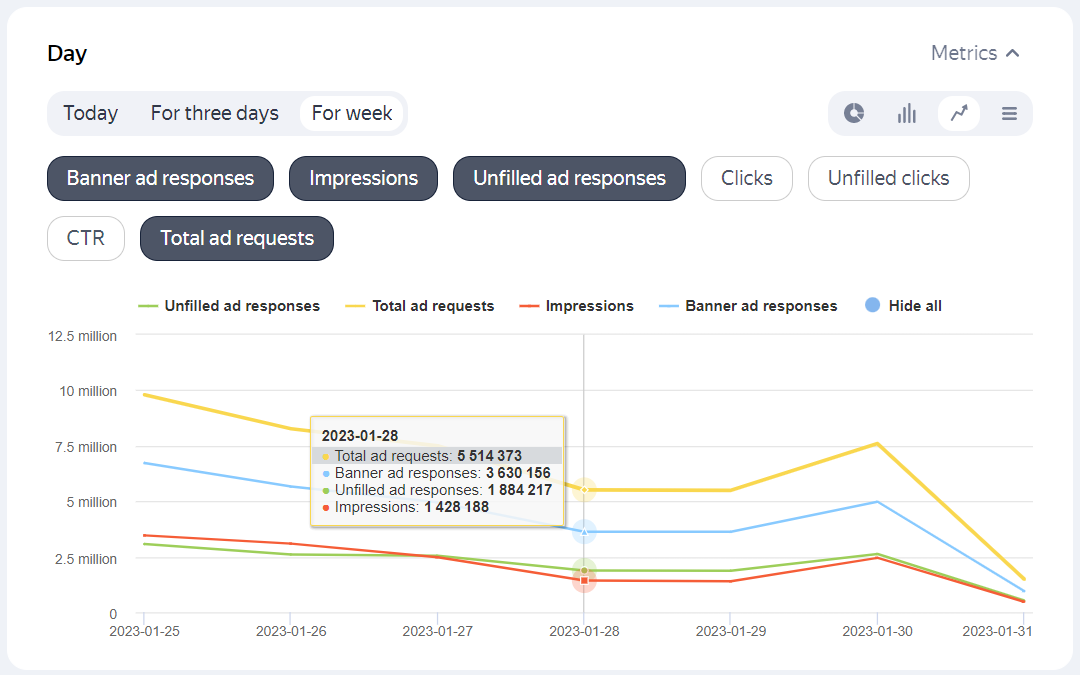 Change the time period of statistics

Select an available period:

Today

: Statistics for the current day (starting from 00:00).

For three days

: Statistics for the current day and 2 preceding calendar days.

For week

: Statistics for the previous week (including the current day).

Change the set of indicators in the widget

At the top right, click

Metrics

. A list of available indicators will appear above the chart, depending on the type of report.

Select the indicators that you want to display on the chart.

View exact data

Hover over a point, column, or sector to view the exact statistics for the selected indicator.

Change the data view

You can switch the view at the top right:

: Graph.

: Histogram (bar chart).

: Pie chart.

: Table.

Open a report in Report Builder

Click the widget name at the top left to open the report that the widget is based on.
Edit or delete a widget
To edit or delete a widget, click Edit.
Change the widget size

Hover over the border of the widget: on the right to change the width, at the bottom to change the height.

When the pointer changes to a double-headed arrow, hold it and move the border of the widget.

Change the widget location

Hold the widget and move it to another place on the page.

Delete a widget

At the top right of the widget, click the  icon.