Using segments in Yandex Direct
Yandex Audience segments become available in Yandex Direct immediately after they receive "Finished" status.
Impression criteria in Yandex.Audience
You can set up impression criteria for a group of ads served on ad networks on the page where you create or edit the ad groups. To do that, you'll need to set up your retargeting list or the user profile. Use Yandex.Audience segments when setting up criteria:

You can set up complex impression criteria which include Yandex Audience segments and Yandex Metrica targets/segments. For example, if you want to use a Yandex.Audience segment to select the users who visited your site in the last 30 days but didn't purchase anything, set up two criteria: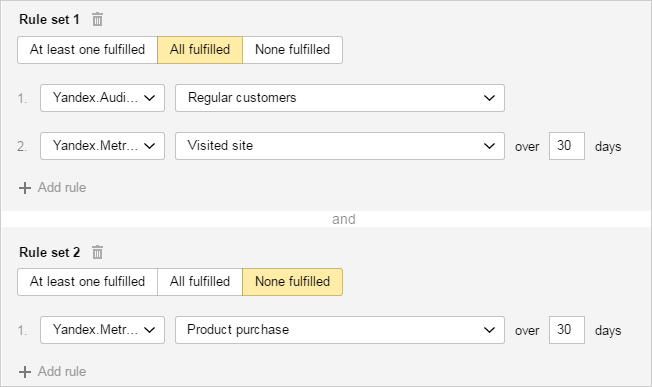 More on setting up the retargeting list and user profile.
Bid adjusments
You can use bid adjustments to increase or decrease the CPC for Yandex Direct ads for a particular audience. For example, the audience that matches the Yandex Audience segment. This setting is available under Bid adjustments on the campaign parameter page or the ad group editing page.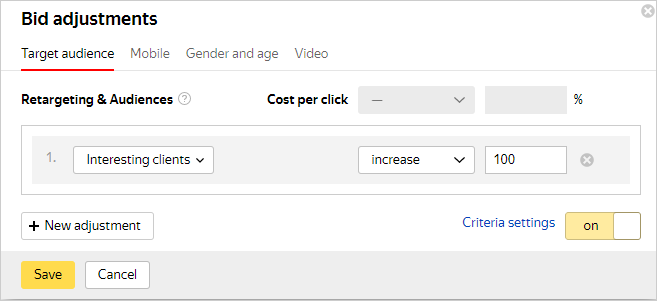 More on Bid adjustments.
Statistics
Statistics on impressions and clicks on ads that use the retargeting list or user profile are available in the Report Wizard. On the My campaigns page, follow the Statistics for all campaigns link and click the Report Wizard tab. Set the period, then go to Slices and choose Impression criteria. Add the Impression criteria type → Retargeting & Audiences or Impression criteria type → User profile.
More on the Report Wizard.
Still have questions?
Attention.
Customer service specialists can advise you only on the ad campaigns linked to the login you are using to contact them. You can see your login in the upper-right corner of the screen. The specialist will get access to your data only when processing your request.