Power saving mode
Power saving mode in Yandex Browser saves battery life. You can work almost an hour longer in this mode on battery power.
How does power saving mode work?
Browsers are the most popular programs today. People use browsers to receive and send email, make purchases online, play games, listen to music, and watch movies. You may open dozens of sites in the browser at the same time, and most of them are probably full-fledged web applications requiring significant memory and power resources. If you are operating your laptop on battery power, the browser load makes it run low on power faster.
Use the power-saving mode to prevent your battery from running low too quickly. In this mode, Yandex Browser:
Reduces activity of tabs open in the background.

Always

uses

the video card to play video.

Reduces the

FPS

of the pages.

Disables animation in Yandex Browser interface elements if it is too CPU-intensive.

Disables video playback in high quality (1080p and higher).

Takes other actions to optimize power consumption.
Enable
When you disconnect your laptop from power, Yandex Browser enables the power-saving mode by default and notifies you: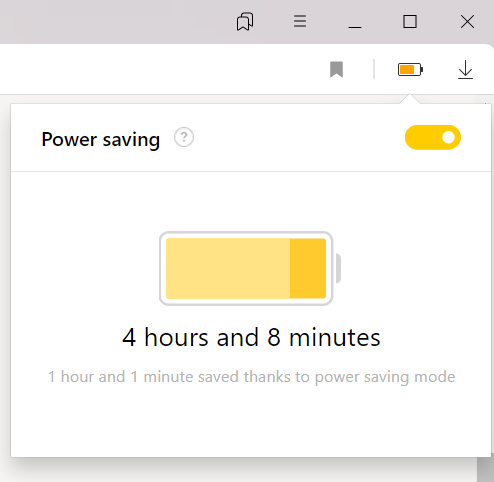 To view your laptop's battery charge, click 

to the right of the
SmartBox
.
Note.
If you don't want to see the 

icon, click . Under
Power saving mode
, deselect
Show power saving icon
.
Disable
For the current session

Click 

to the right of the

SmartBox

.

In the window that opens, disable 

Power saving

.

Forever

Click 

.

In the

Power saving mode

, disable the mode (the

Enable automatically

option).
Settings
You can choose when the power saving mode is enabled:
Click 

.

In the

Power saving mode

section, select the required option from the list. Yandex Browser will turn on power saving mode when the power cable is disconnected, or if the battery charge is below 80%, 50%, or 20%.