How to use video extensions
You can only add a video extension to Text & Image Ads that are part of Text & Image Ad type campaigns.
You can use the ID of a video extension to add it to multiple ads at once, even to those that belong to different ad groups or campaigns. A video extension and a ad must belong to the same username (advertiser).
Restriction.
Currently, Commander does not support creating, editing, or viewing of video extensions.
Find out the video extension ID
In the Yandex.Direct web interface, open the ad group edit page. Go to the

Video

field and choose

"Select from previously added"

in the drop-down list.

In the

Ad Builder

window, enter the

My creatives

tab and turn off the

Show only creatives linked to ads

option, if necessary.

Hover on the creative, click

, and select

Parameters

in the menu.

Copy the ID.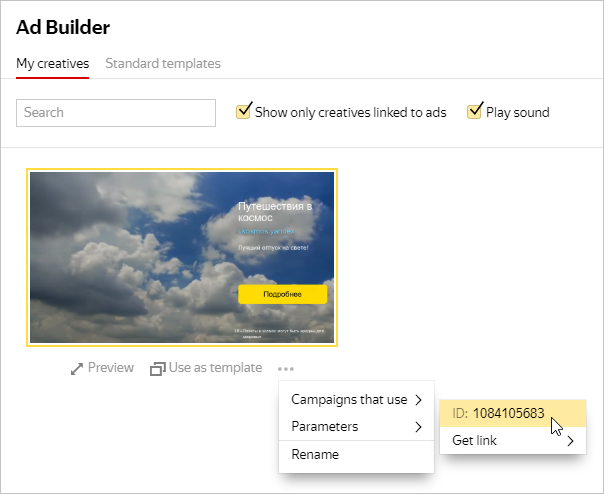 Add a video extension to ads
Tip.
Before making any changes,
download
up-to-date campaign data from the server.
On the

Campaigns

tab, select a single campaign or

multiple

campaigns.

On the

Ad groups

tab, select one or more ad groups.

On the

Ads

tab, select one or more ads where you want to add or replace a video extension.

In the

Editing

section in the Inspector, enter the extension ID in the

Video

field.

Press

Ctrl

+

S

(

Cmd ⌘

+

S

on MacOS) or click the

Save

button at the bottom of Inspector.