Turbo sites
A Turbo site is a site that loads faster than normal sites and is adapted for mobile devices. It can consist of one or more pages. On a Turbo site, the user can learn more about the advertised offer, submit a request, order a product or service. You can create a site for any tasks, e.g., to present your works portfolio, sell your products online with a shopping cart, or collect requests. You can use sample pages with preset structures for different types of business.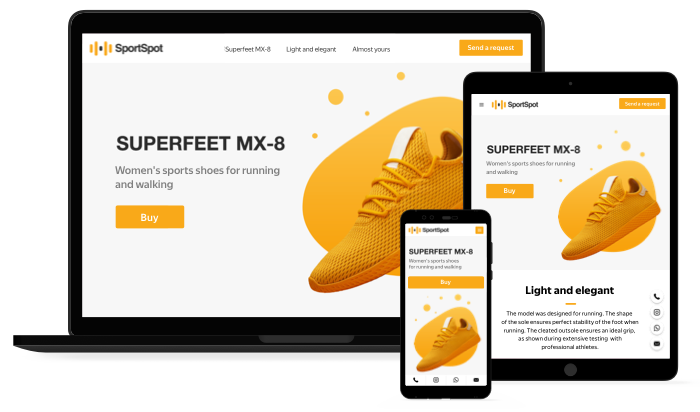 How it works
Benefits of Turbo sites:
They adapt to every device type.

They open fast on all platforms so you can improve your conversion rate.

They are indexed by search engines and may result in additional traffic if they match what users are searching for.

They do not require any special knowledge or experience: create and publish a site in Turbo Page Builder instantly, without involving developers, testers, or designers.
You can create Turbo sites as a supplement to your main website. When ads are served on mobile devices, the website link, sitelink, or vCard will lead to a Turbo site. When ads are served on a computer or tablet, the link will lead to your main site.
If you don't have a main site or you want to use Turbo sites for individual products or special offers, you can create a dedicated Turbo site or add an existing one. In this case, ads on all devices lead to it.
The page URL on all platforms remains unchanged.
Have questions?
Attention.
Our customer service department can only help you with the campaigns created under the same username you use to contact us. You can see your current login in the upper-right corner of the screen. Our team can access your data only when processing your request.