Targeting by app category
Targeting by app interests helps you reach the target audience of your ads for mobile apps. It allows you to serve a specific ad to people with particular preferences. You can increase the coverage of mobile app ads by showing ads to users who are interested in a particular category or type of app. For example, you can advertise a running app to people who are already interested in "Sport" apps.
Serving ads based on interests is available on ad networks (Yandex Advertising Network and ad exchanges). This setting is available in the Expert mode.
How to select app interests
Targeting by app interests is only available for ads for mobile apps. To get started, go to the ad editing or creation page, and choose selections from the Interests section.
For example, if you are advertising a running app, you can select the following interests: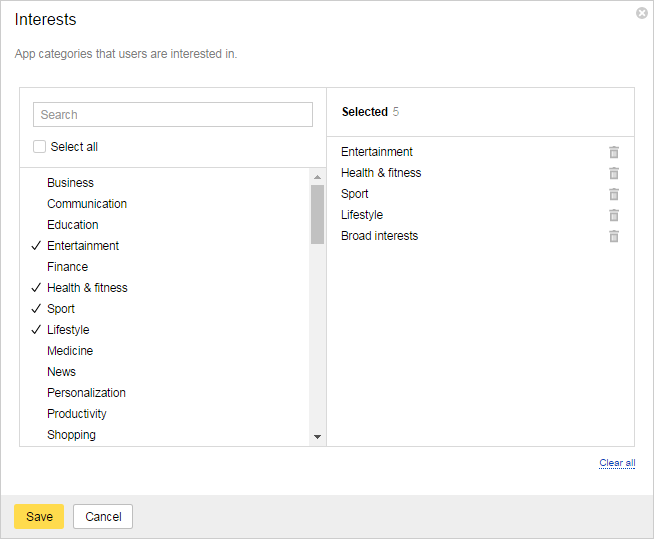 Research by Yandex shows that a significant number of users are interested in more than one or two app categories. When you add targeting by app interest, select several categories: this will ensure a broader reach for your ads.
You can add categories to several ads at once with XLS/XLSX files or via the Yandex Direct API.
Setting bids and viewing statistics
By setting high bids for ads targeted at specific interests, you will be able to reach more interested users and serve ads that are more relevant to them. You can set a bid for each interest if you are using a manual bid management strategy.
To view statistics on categories in the Report Wizard, use the Interests filter. Learn more about evaluating campaign performance.
Have questions?
Attention.
Our customer service department can only help you with the campaigns created under the same username you use to contact us. You can see your current login in the upper-right corner of the screen. Our team can access your data only when processing your request.