How to launch a campaign with video banners
Step 1. Go to the campaign creation page and make settings

Step 2. Select ad type

Step 3. Configure audience accumulation for retargeting

Step 4. Set up impression criteria

Step 5. Add a creative

Step 6. Enter a Yandex Audience pixel and impression tag
As an advertising data operator, Yandex assigns each creative a unique identifier referred to as "token" when creating campaigns. It then uses this token to aggregate all your placement data and transmit it to the Unified Internet Advertising Registry (ERIR). Learn more about ad labeling.
Reach forecast
At the audience selection step, you will see the estimated reach. This will help you evaluate the weekly number of users that could potentially see ads from a particular group. The estimate shows two values:
On the left, you'll see the number of users that could potentially see banners from the group.

User profile

settings, uploaded banner settings, display regions set for the ad group, and

ad inventory adjustments

are taken into account.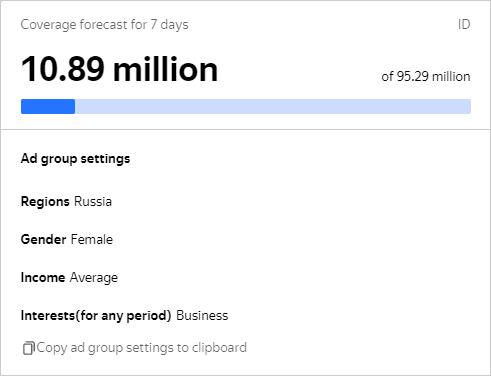 The values are also affected by disabling impressions for specific users through bid adjustments (minus 100%) set for a campaign or group. Weather bid adjustments are ignored.
Any changes you make to the campaign or ad settings immediately affects estimated data so you can evaluate your potential audience reach.
The estimation might not be available if you used the following when setting up your profile:
A Yandex Audience segment that was created less than 6 hours ago or more than two weeks ago and was not used in Yandex Direct.

Bid adjustments for weather.
Ad moderation and launching a campaign
Click Send to moderation and confirm that you accept Yandex's terms for publishing your ad.
Moderators will check whether the ad follows the guidelines. It usually takes the moderators a few hours to review ads. On weekends and holidays, moderation may take longer than on weekdays.
Your moderation results will be emailed to the address you provided when you created the ad campaign.
Ad serving will begin as soon as Yandex receives your payment.
Have questions?
Attention.
Our customer service department can only help you with the campaigns created under the same username you use to contact us. You can see your current login in the upper-right corner of the screen. Our team can access your data only when processing your request.