Edit documents
You can create and edit documents, tables, and presentations directly on Yandex.Disk.
The following file formats are supported:
Attention.
If you open a document in an old format (
DOC
,
XLS
,
PPT
) in the editor, Yandex.Disk automatically creates a copy in the new format (
DOCX
,
XLSX
,
PPTX
). Only the copy is edited. The source document remains unchanged.
You can also work with all documents in one place: Yandex.Documents.
Creating a document
To create a new document, table, or presentation, click the Create button on the left panel and choose the file type. You can also create documents using the context menu.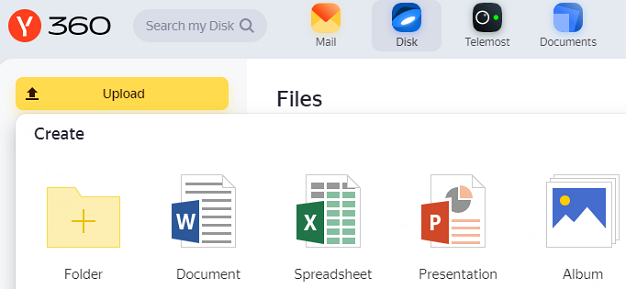 If you already have a document to edit, open it from Yandex.Disk or upload it from your computer.
Using the editor
Double-click a document to open it in the editor.
All changes are saved automatically. To close the document and return to the Yandex.Disk folder, close the editor tab.
You can rename the file, download it, or send it to print. To see additional file management options, open the File menu.
Collaborate on documents
To edit a document with your friends or colleagues, share it:
In Yandex.Disk, right-click a document and select

Share

in the contect menu. You can also share the document from the editor page by clicking

Manage access

in the upper-right corner.

Select an access type:

View

or

Edit

.

Restriction.

You can't set up personal permissions (to view only or view and edit files for different users) at the moment.

Click

Copy link

and send it to your friends or colleagues in any convenient way.