Default bids for all products
If you set default bids, and they will apply to all offers for which an individual rate has not been set. Default bids can only be set in your store account.
Why do I need default bids?
Default bids allow you to raise the position of all your offers, limited only by how much you are willing to invest in the advertisement of your entire product range on Yandex.Market. In general, it make sense to have your store's most popular products occupy the highest positions (1–10) , while for the remaining products it is sufficient that they are simply not in the lowest positions.
Note:

Individual product bids take precedence over default bids, even if their amount is lower. Changes in default bids don't affect individual product bids.

If individual bids are assigned in the price list, you can't use default bids. If you plan to manage your bids in the price list, you can first set your default bids and then switch to managing bids in the price list. If you do this, your default bids will be active, though you won't be able to change them.

If you set individual bids in PriceLabs, they are not applied to new products immediately, but only within 6 hours. Within that time, information about new offers is updated in PriceLabs. Until then, they are subject to default bids or to the minimum CPC (if no default bid is set).
How to set default bids
Note.
Here and further in this section the names of elements in the Russian-language version of the store account and their exact translations into English are shown. Interface texts are translated automatically when switching to the English version, so they change from time to time and may not match the translated names on this page.
On the page Управление ставками ("Bid management") press Ставки по умолчанию ("Default bids"). This opens the settings window: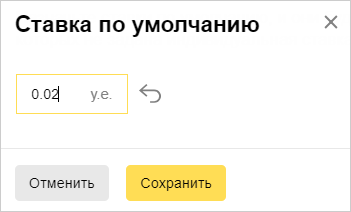 Enter your bid in Yandex units (1 Yandex unit = RUB 30). The result:
In categories without product profiles

In the Yandex.Market search, the positions of all your offers will be raised relative to other offers with the same or similar relevance.

Your offers will be able to be included in the Yandex.Market sections of Yandex search.

In categories with product profiles

The positions of all your offers will be raised on the "Prices" page the product profile.